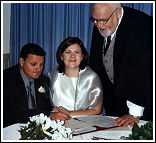 As a one of our special clients you will be given access to our client log-in area on our website where you can view our sample ceremonies. You can choose one of these ceremonies as they are, or you can mix and match and/or add your own special wordings, vows, readings and in doing so create your own very special Wedding Ceremony.
The next step is to Contact Us and make an appointment to see Carol and Alex. During this interview we will go through everything that is required for you to marry the one you love. The most important thing is to complete a "Notice of Intended Marriage" a minimum of one calendar month prior to your planned wedding date.
There are many important things to keep in mind when you get married such as Name Changes, Licences and other paperwork. Here is a quick list of "Things To Consider" related to your big day and beyond.
Our ceremonies are a complete package and everything you read on these pages are included in the final fee. If you would like to get in touch with Carol and Alex, click on the Contact Us page and drop us a line.