Authorised Civil Celebrant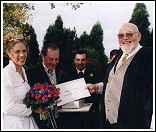 Alex's corporate background was predominately as a Senior Officer in the tertiary education sector, including twelve years as Campus Manager at the University of Western Sydney.
In 1970, Alex was appointed as a Justice Of The Peace and in 1995 he was further appointed as a Civil Marriage Celebrant.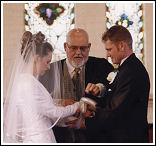 Today, Alex is semi-retired but still enjoys participating in all ceremonies including Weddings, Namings, Renewal Of Vows, and Commitment Ceremonies.
Alex has lived in the Macarthur Region for the past 30 years and now currently resides in the Central West near Cowra. Over the last 40 years Alex has been a member of the Volunteer Bush Fire Brigade, State Emergency Services, Boy Scout Association, Toastmasters and the Picton Theatre group.