You have finally found your perfect partner, the love of your life. The moment you met you knew that you were soul mates. This is the person that you have waited for all your life. You want to declare to the world that you have found your perfect match; You want to make a special commitment to each other, declare your love for each other in front of your family and friends.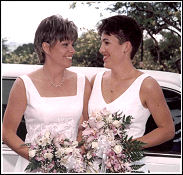 Within the context of your Commitment Ceremony you can make promises to love, honour and cherish each other for a lifetime of joy and happiness together. You can also exchange rings, join your lives together through the ancient hand fastening ceremony or do an exchange of roses.
Together we can write the most perfect commitment ceremony for you and your partner. It will be a ceremony that you will be proud of, one where you will be proud to have your family and friends as your witnesses.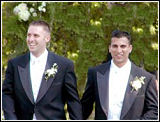 A ceremony performed by Carol and Alex includes the following:
A selection of ceremonies to choose from
Bound presentation copy of your chosen ceremony to keep
A Commitment Certificate
Use of a portable PA system and CD player
Use of a signing lecturn
Your cermony conducted by a professional celebrant