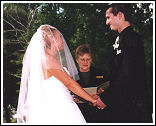 The day you marry the one you love is a day filled with new beginnings. Your choice of a civil celebrant is one of the most important decisions you will make.

Carol and Alex, with many years of combined experience will make your special ceremony just perfect, and they will deliver the wedding ceremony you have always dreamed of.

Your ceremony can be whatever you want it to be, casual, formal, traditional, contemporary or a Theme Wedding.

Carol and Alex are very happy to offer an obligation free meeting for a chat to talk about what you have in mind for your ceremony and to get to know each other.

Listed below is our all inclusive Wedding Package:
First meeting to lodge Notice of Intended Marriage form, to check birth certificates, divorce/death papers etc and to make initial ceremony arrangements.
Information Booklet which includes, fee structure, ceremony format, name change information, code of practice, relationship information, complaint procedures.
Second meeting to finalise all arrangements and sign legal documents, mini rehearsal at this meeting (Note: Meetings 1 and 2 can be combined)
All legalities, lodgement of notices and on-line registration of your marriage.
Twelve ceremonies to choose from including Handfasting, Palm Ceremony, Rose Exchange Ceremony, Unity Candle and Ring Warming plus many different poems, readings and verses to choose from.
Mix and match the above ceremonies or write your own ceremony with our assistance if required. We are very happy to research and add any special requirements that you may want to include in your wedding ceremony.
Bound copy of your Wedding Ceremony for you to keep.
A choice of fonts for your Wedding Certificate, which will be presented to you in a white gloss folder on the day.
Mipro MA-101 PA system so your family and friends can hear your Wedding Ceremony. We also have a hand held microphone for readers, if required.
CD player, which is played through the Mipro system for your choice of music.
A selection of appropriate music if required.
A lectern with a lovely crochet cloth for the signing of your Wedding Certificates.
Public liability insurance.